David Stringer Touring with England Rugby 2019
August 2019 saw David return to South Africa for the fifth time in seven years with the England U18 Rugby Union Team as they yet again took part in the U18's International Series. This time the teams involved were; England, South Africa, Wales, Argentina and France.
The squad met at the Lensbury Hotel in Teddington, a venue David knows well having worked with both the England 7's Team and the England Senior Squad (currently in Japan for the Rugby World Cup) there on regular occasions. Following some medical screening, a training session and some media duties we flew from Heathrow to Cape Town overnight and off to our training base at The Stellenbosch Academy of Sport. The Academy of Sport is the home of the South Africa Seven's Team and Stellenbosch FC as well as having been used by the South African squad.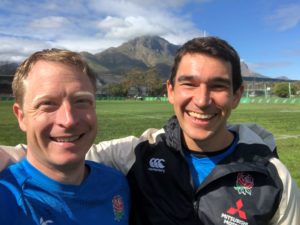 Our first match was against an Argentina side that was not only a year older than our lads but had also had three warm-up matches (we'd only had 3 training sessions). We lost by 10 points having had a try disallowed by the television match official. Second up was France, as is normal with these tournaments there was only 5 days between matches, which makes it great preparation for players who move on to play in U20's and Senior Team World Cups. It means the focus has to be on recovery and really good quality, short, sharp rugby sessions. It certainly keeps the Medical and Conditioning Team busy. England beat France 29-25, scoring four tries in the process. Following the match the players were presented with their U18 International Caps It's a ceremony that is always a real pleasure to be a part of, the opportunity to see the pride in their parents' faces and to have been a part of that journey for them is a fantastic experience. The final match was against South Africa Schools, another side a year older than our players, and although we lost by 6 points the players put in a cracking performance.
The tour is an integral part of the players International Rugby development, all designed to help produce players that will go on and successfully represent the full England Senior Side in the future. Just 3 years David toured South Africa with two of the players in the current World Cup Squad currently in Japan, and he has worked with the majority of that squad and staff in this current World Cup Cycle.
To book an appointment with David or one of the team, please contact David by phone on 07974 578 191 or by e-mail: david@leedssportsphysio.com