DAVID STRINGER LEEDS PHYSIOTHERAPY
The physiotherapy and sports injuries clinic was founded by David Stringer MSc, currently in his 15th season as physiotherapist for the England Rugby Union Elite Medical Team, where he has worked with not only the England Men's team during the Six Nations and Autumn International Campaigns, but also with the England Seven's team and the England U18's development side.
Over the last 15 years, David has been on numerous England rugby tours and training camps in the UK and abroad, including five tours to South Africa. He has a wealth of experience and a strong career of working as a physiotherapist in professional sport, including working for four years with Leeds Carnegie RUFC and Leeds Rhinos RLFC and for two years with NEC Harlequins RUFC, based in London.
At the 2022 Commonwealth Games in Birmingham, David was based in Warwick providing medical support to athletes from triathlon, road cycling, rugby 7's, judo and wrestling. David has also worked at several major athletic tournaments including as a physio at the London 2012 Olympic Games, where David was based at the O2 Arena providing medical support to the international gymnasts. At the 2014 Commonwealth Games in Glasgow, David was based at Scotstoun providing medical support to track and field athletes, whilst at the 2002 Commonwealth Games in Manchester he was based in the Medical Centre, providing medical support to athletes of all sports.
As a leader in the field of sports medicine, David is also employed to teach other Sports Physiotherapists, Sports Doctors and Medical Professionals on how to assess and treat athletes on the field of play in his role as sports trauma lecturer. He holds teaching posts with both The Football Association (FA) and The Rugby Football League (RFL) as well as having been a visiting lecturer at local Universities here in Leeds. David is married with two children and lives in North Yorkshire.
LEEDS SPORTS PHYSIO
As a leading Leeds sports physio practice, David Stringer Physiotherapy delivers nothing but the highest quality of treatment and care for musculoskeletal conditions and are specialists in the field of sports injury. We offer affordable and effective treatment plans which are tailored to the needs of each and every one of our clients and offer a full initial assessment before devising a treatment plan to move forward.  We have a conveniently located practice, with extensive parking on The Otley Road, Adel, North Leeds.
Alongside David at his practice in Adel are his team of highly experienced private physiotherapists. David takes great pride knowing that his team are some of the most experienced physiotherapists in the region, who not only strive for continual improvement in our patient's conditions but also in their own learning and development. This ensures that our patients recover quickly and effectively so that they can return to their desired level of activity as soon as possible, however, don't worry if you aren't a sportsperson as we treat people of all ages and actively levels.
David Stringer Leeds Physiotherapist is dedicated to providing nothing but the best service and treatments in Leeds and the surrounding areas, ensuring that you receive the same level of care and attention to detail as a professional athlete. If you're looking for a reliable and professional Leeds sports physio, get in touch today.
For more information take a look at the variety of physiotherapy treatment services we offer or contact us today to see how we can help you get back on the road to recovery.
Click here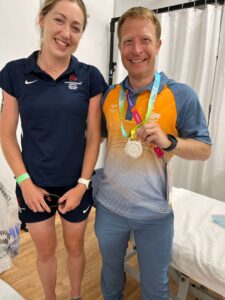 WOULD YOU LIKE TO HAVE A

QUICK CHAT?
For information on how David Stringer Physiotherapy may be able to help you, contact us today on 07974 578 191 or drop David an email via the contact page
Local SEO by the Leeds SEO Agency